How we became the leading pressure-turning company in the Nordic region
When we talk to people in the Töreboda area and ask them about Hermanders, many of them say "lamp factory". Of course it is true that Hermanders made millions of lamps for delivery to firms like IKEA and KF. But the world is changing and so is the market, which has meant in turn that Hermanders' strategy has also changed.
Our core business is today metal spinning and advanced sheet forming. It is with joy and pride that we realize that it is just the same basic idea that the company's founder, Folke Hermansson and Hugo Andersson, founded the company to do in 1951.
Having developed our core competencies for 70 years gives us as a firm and solid foundation to continue to develop our business. Hermanders AB is well equipped to meet market demands, both within our existing skills and in new areas. Through our investments in the latest machine technology as well as skilled and well-trained staff, we feel that with pride and clarity we can say that we are the leading press releases in the Nordic region.
– Patrik Nilsson, CEO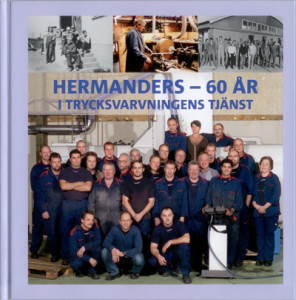 View the book (in Swedish)
Milestones
8 Mar 1951
Folke Hermansson and Hugo Andersson start up Hermanders Metallindustri AB in the courtyard building where the ICA Supermarket is now located.
1956
Hermanders grows and needs new premises. Folke builds a new factory in Haddeboda.
1969
Haddeboda is too small. In the summer, the company moves to new premises on Industrigatan.
1 Jan 1979
Hermanders and Granhaga merge and change their name to Nordsales Granhaga AB. Folke owns 25 per cent of the shares in the new company.
1982
Folke Hermansson owns Tulles Metallindustri together with his son Jan. When the company is restructured, 25 employees put up the money to become part-owners. The new name of the company is Hermanders AB. The company stays in the same factory that Folke built in 1956.
Aug 1982
Folke, Jan and 25 employees move the company to Granhaga's former premises, next door to Töreboda Limträ.
1983
Nordsales Granhaga AB files for bankruptcy.
1989
Hermanders AB is bought by Töreboda Skrotaffär and Rolf Severin becomes the new MD.
19 Nov 1991
Hermanders AB files for bankruptcy.
12 Dec 1991
The new Hermanders AB starts up with new owners Jan Engström and Göran Johansson.
1995-96
Jan Engström buys out Göran Johansson to become sole owner of Hermanders.
1998
Gårdsjö Mekaniska is bought up.
1999
Anders Nyman buys into the company as co-owner.
10 Sep 1999
Hermanders buys Axelsson Textilindustri's factory premises.
Nov 1999
Hermanders moves to Axelsson's old premises on Sötåsenvägen.
Autumn 2000
Hermanders invests SEK 3.5 million in a new Leico pressure lathe which can take pieces 1,800 mm in diameter.
2004
Hermanders acquires Laio Metall AB in Hovmantorp.
2004
Spinnform AB in Bredaryd is acquired.
2005
Ludvika Metalltryck AB is sold to Hermanders.
2006
Hermanders expands with a new canteen and staff areas and a new conference room.
2008
The company adds a new 700 sqm factory building.
Winter 2008
Laio in Hovmantorp is forced to shut down.
2010
Hermanders adds 500 sqm of warehouse space.
2011
Hermanders celebrates its 60th anniversary.
2012
Jan Engström becomes sole owner as Anders Nyman retires.
2013
Bemo Press AB in Töreboda is acquired.
2015
METAB, Metalltryckning i Bredaryd AB is acquired.
2017
Hermanders is acquired by Cality Invest AB.
2021
Hermanders celebrates its 70th anniversary.